* You can purchase Maple Leaf Lounge access up until 24 hours prior to your flight by going to My Bookings. Maple Leaf Lounge access is not available for purchase at the airport, except at our Paris Maple leaf Lounge.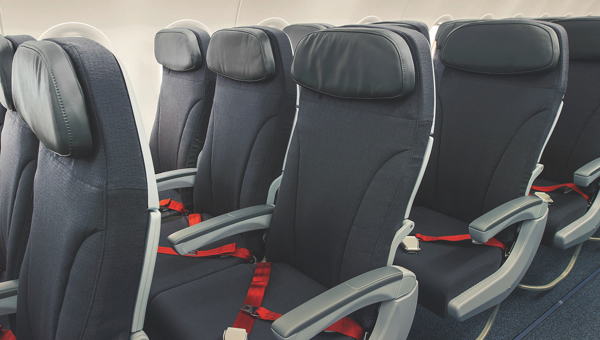 Our Economy Cabin Seating
Starting your next great vacation with us in our Economy cabin? Enjoy:
Advanced aircraft seating technology with adjustable headrests for even more comfort.
Our Preferred Seating offers more legroom for a small additional charge.
Food and beverage
Don't forget to pre-purchase your meal before your flight! For customers who pre-purchased a meal online, or who purchased a Latitude fare, a meal box will include a pre-selected meal and snack item from the Air Canada Bistro.
Bar service will include Lavazza coffee, black tea and limited soft drinks (Coke, Diet Coke, Ginger Ale), and bottled water.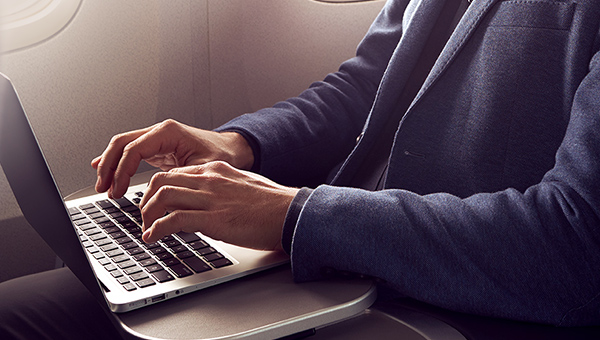 Entertainment
Be entertained with complimentary movies including New Releases and TV shows, streamed directly to your tablet, smartphone or laptop.
Don't just fly. Surf too, with Rouge Wi-Fi.*
Enjoy the fastest in-flight internet in Canada. Need to check in at the office? Done. Plan your trip before you arrive? Easy. Sit down to a TV marathon on a break from your video game? Just hit play.
*Available for purchase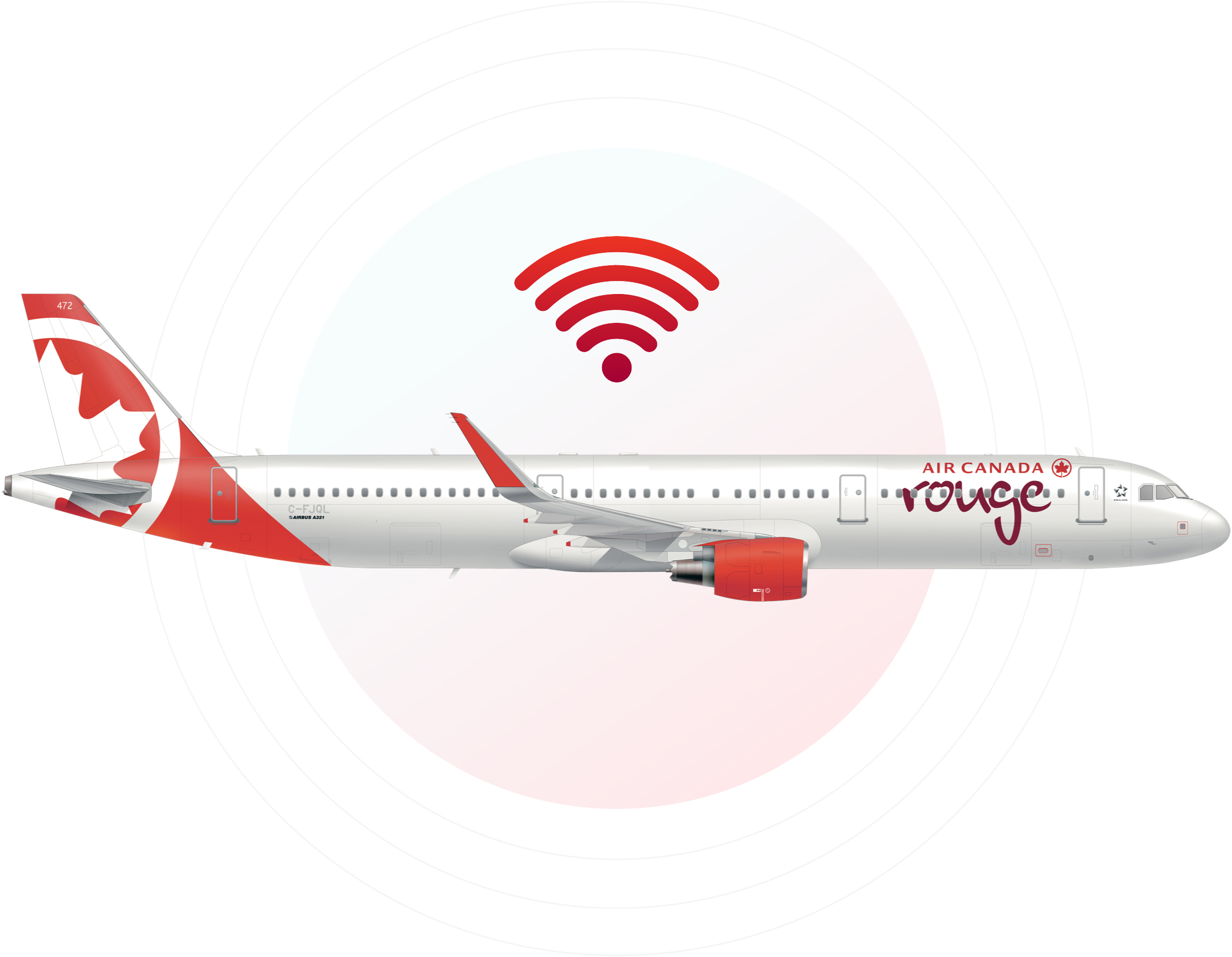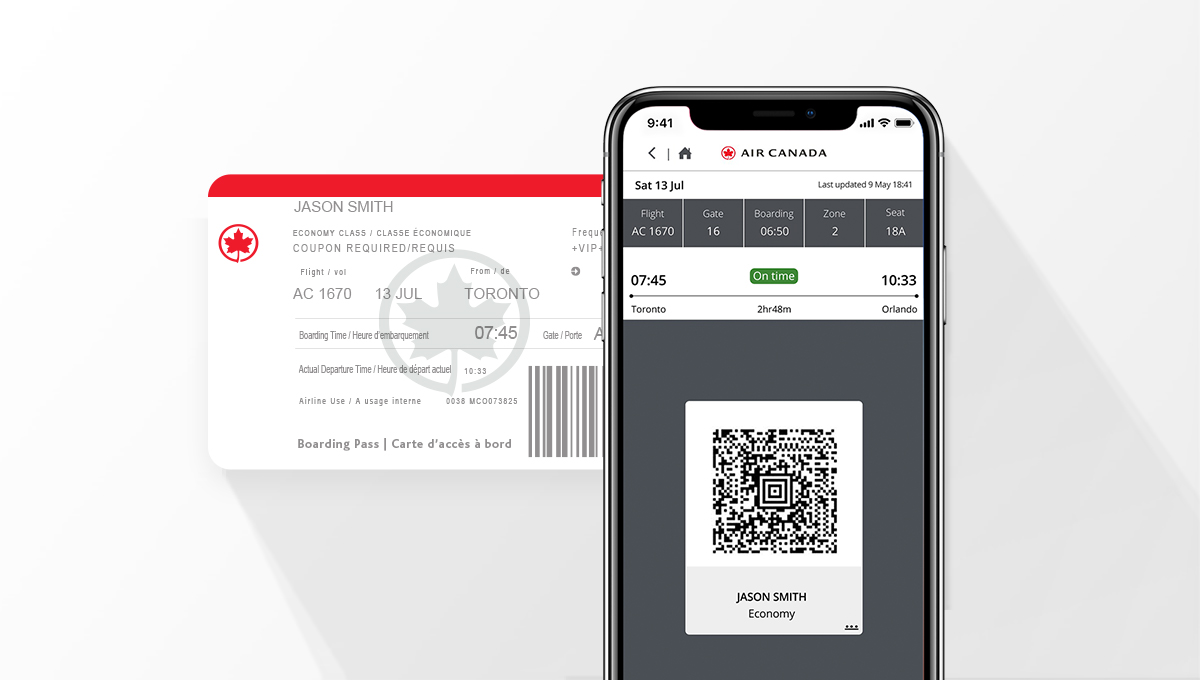 Check-in options
Get your trip started early by checking-in up to 24 hours before you fly at aircanada.com or on your Air Canada app. You can also check in at an Air Canada airport kiosk or Air Canada check-in counter.
We also know how important your safety is every step of the way, which is why we are implementing touch-free airport experiences.
TouchFree Bag Check
Now at select airports, Air Canada check-in areas feature TouchFree Bag Check kiosks for domestic travel, with international travel beginning later this summer. You can automatically print your bag tags without contact. Simply check-in online, select the exact number of checked bags, and pay any applicable fees, to get your boarding pass in advance. At the airport, all you will need to do is scan your electronic or paper boarding pass at a TouchFree Bag Check kiosk to print all of your bag tags.
Once you've attached your bag tags, drop off your luggage at our TouchFree Bag Drop.
Carry-on baggage: touchless verification and enforcement
In order to streamline the boarding process, all customers will be required to comply with verification measures pre-security, or at the gate.
New technologies will be introduced at select airports* to automatically size and measure carry-on baggage for compliance, making the carry-on baggage policy verification process touchless.
*In the following cities: Toronto (Pearson), Montreal, and Ottawa.
Further prepare for your next trip, and learn more about what to expect, with our updated travel guidelines.
TouchFree Bag Check
Not sure what to pack? Please visit aircanada.com for full details on carry-on baggage, personal articles and checked baggage allowances.