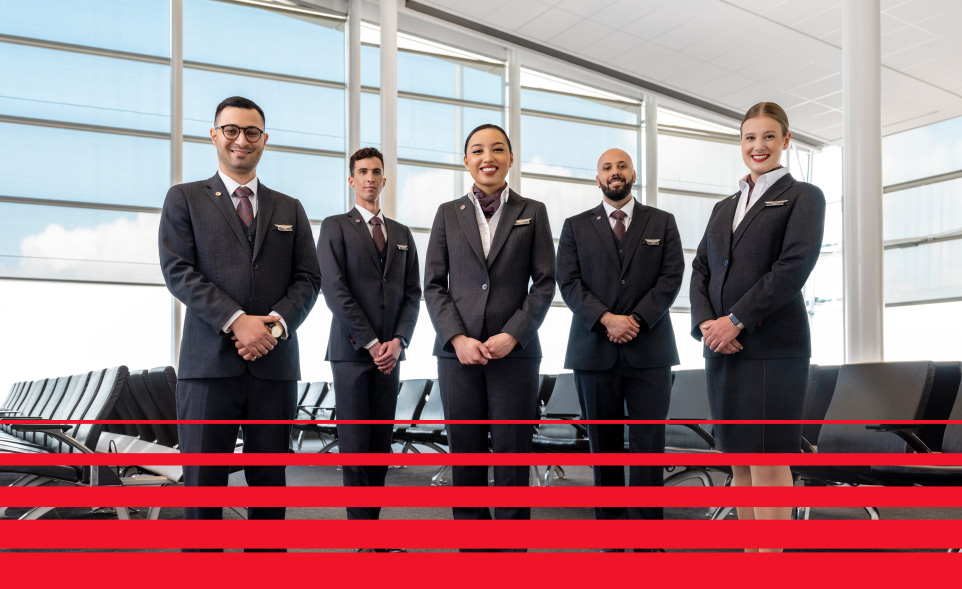 Our culture
What makes us Air Canada Rouge? In a word, we're real.(Okay, two words.) We foster fun and hard work in an open environment.
At Air Canada Rouge, we adhere to the following Quality Standards in everything that we do:
Safety
We put safety first, always.
Canadian charm
We are proud to represent Canada and the company as a brand ambassador around the world.
Friendly+
We tailor our customer experience to each individual's needs, and go above and beyond to create memorable experiences.
Efficiency
We ensure company processes are followed to provide the service and experience that our colleagues and customers expect.
Diversity, equality, and inclusion
We are committed to diversity and Inclusion and aim to create a healthy, accessible, and rewarding work environment which highlights employees' unique contributions to our company's success. We believe in celebrating the diversity of our workforce and as an equal opportunity employer, we encourage all qualified individuals to apply.
Wellness
At Rouge, we are devoted to supporting and promoting the mental and physical wellness of our people. Our commitment includes initiatives such as making valuable wellness platforms available to everyone, an annual wellness week and promoting a diverse range of wellness campaigns.
Employee family assistance program
Supporting the physical and mental wellbeing of our employees is our priority. The EAP offers confidential counselling and referral services to employees and their families facing personal challenges, to help get the professional support they need.
Benefits - we think you'll like them
Our very competitive Medical and Dental plan begins after 3 months of uninterrupted service. You'll have the option of selecting a plan that's best suited for your needs.
Basic Life Insurance and Accidental Death and Dismemberment Insurance are included at 100% of annual earnings, with a minimum of $35,000. Optional Life Insurance available at an extra cost.

Holidays
As part of the Rouge Crew, you're entitled to 10 vacation days. Where will you fly to?

Travel to any Air Canada destination
After 6 months of service, you'll have the opportunity to fly anywhere Air Canada and its affiliate carriers fly. Exciting, right?

Flexible work hours
As a Rouge Crew member, you can bid on your schedule according to your seniority. You'll work certain days of the month and have other days off, but your schedule should allow you to keep up with other activities.

A chance to skyrocket your career
In time, you can become a team leader and as part of the Air Canada Rouge family, you'll be able to apply for other roles within the organization in the future.

Pension Plan
You will take part in a generous Retirement Program with company matching.

Employee Share Ownership Plan
Benefit from the growth and success of Air Canada and Air Canada Rouge by contributing a percent of your salary towards the purchase of shares.
Think you're ready to join the Air Canada Rouge team?
Not sure, maybe I just need a vacation.