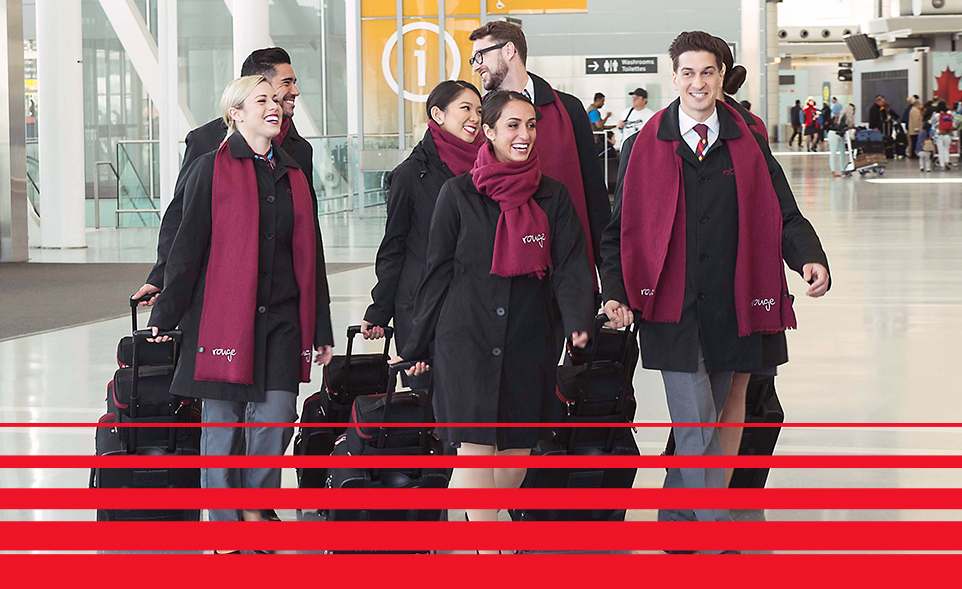 Our culture
What makes us so Air Canada Rouge? In a word, we're real. (Okay, two words.) We foster fun and hard work in an open environment.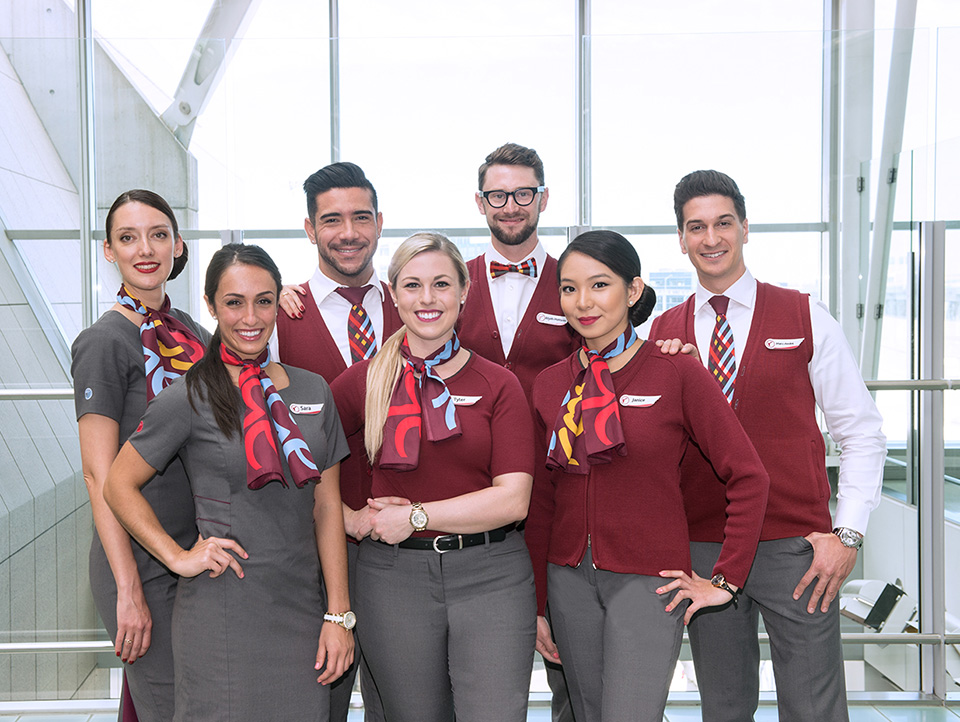 We aren't 9 to 5
And we don't pretend to be. Our hours change as frequently as cloud formations.
Questions are encouraged
Our team is open and friendly. Have a question? Just ask. Couldn't be easier.
Always learning, always sharing
You travelled there. You soaked up the atmosphere. You know a perfect little restaurant just off the boulevard. Now share those experiences with our customers
Fun and flexible
We're committed to fun, and also to excellence.
That warm fuzzy feeling
Being away from home can be hard. That's why we all try and be like one big family.
Benefits. We think you'll like them
Our very competitive Medical and Dental plan begins after 3 months of uninterrupted service. You'll have the option of selecting a Basic or Extended plan.

Visioncare
Well lookie here. You're covered at 100%, one eye examination per year, $150 per year and $250 every 2 years for eyeglass frames and lenses, contact lenses, and laser eye surgery.

Dental Care
Basic and major services up to $1500 per year. Something to smile about.

Holidays
After 1 year of employment, you're entitled to 10 vacation days. Where will you fly to?

Travel to any Air Canada destination
After 6 months, you'll have the opportunity to fly anywhere Air Canada and its affiliate carriers fly. Exciting, right?

Extended Health Care
Includes semi-private hospital room, out of province emergency treatment, physiotherapy (either $1000 or $1500 per year), chiropractor, massage therapy, a naturopath etc., $750 per year or $1000 every two years for combined services.

Insurance
Life insurance, Accidental Death and Dismemberment Insurance included at 100% of annual earnings with a minimum of $35,000 (optional amounts available at an extra cost to you)

Flexible work hours
You can bid on your schedule according to your seniority. You'll work certain days of the month and have other days off, but your schedule should allow you to keep up with other activities.

A chance to skyrocket your career
In time, you can become a team leader and as part of the Air Canada Rouge family, you'll be able to apply for other roles within the organization in the future.
Think you're ready for the Air Canada Rouge Crew?
We hire fun, dedicated people who can adapt to anything that comes their way on the ground and at 30,000 feet in the air. (And trust us, this happens pretty often.) You up for the challenge?
Not sure, maybe I just need a vacation.