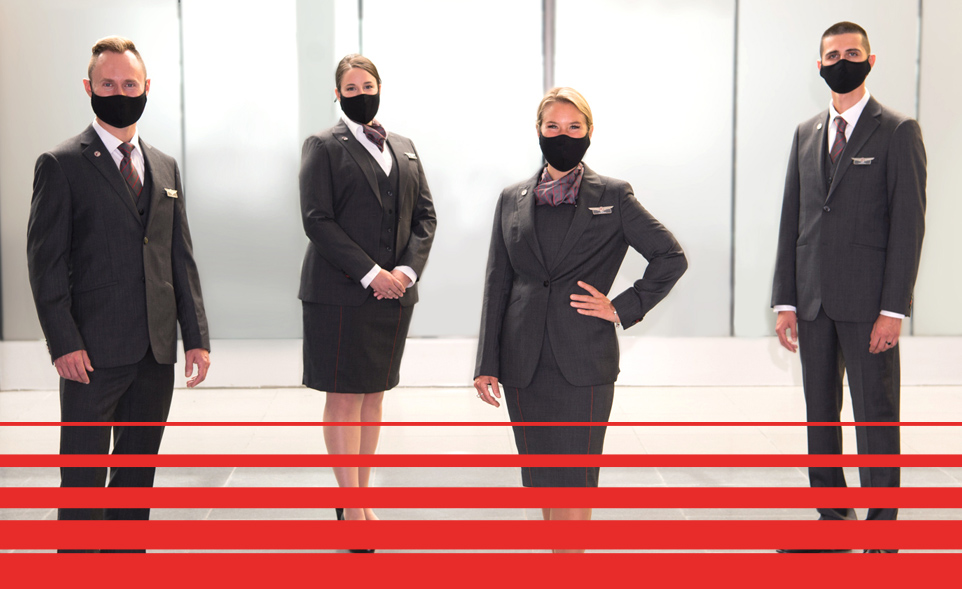 World class training
at world class locations
Before you can fly, every applicant must participate in (and pass) our two-part training program.
Air Canada Rouge safety training in Toronto or Montreal
Prepare yourself for our flight safety and procedures training that's second to none. This is a comprehensive 6-week program (4 weeks technical, 2 weeks service) in which all in-flight safety information will be covered, including pre- and post-flight boarding procedures. Applicants learn the ins and outs of airplane safety, and how to ensure the safest flight possible for customers and fellow Air Canada Rouge Crew members.
Customer service excellence training
All Air Canada Rouge applicants must attend a one-week training program. For Rouge Crew applicants, this is after successfully completing our safety training program. This amazing program is one of the best in its class, and is something we've become known for.
During the training, you'll have the opportunity to work as a team, discuss the different aspects of the work you'll encounter as part of the Air Canada Rouge Crew, and apply customer service theories to real-world scenarios. What will you learn during your training sessions?

Leadership
You'll learn what it takes to become a team leader, how to make good decisions on the spot, inspire others and lead by example.

Career success
You'll receive valuable training in customer service excellence, as well as safety and airline procedures.

Safety procedure training
Safety first. You'll learn everything you need to know to keep our customers and employees safe in all situations.

Teamwork
You'll learn how to work closely in a confined space where teamwork is essential. You'll travel together, enjoy work, and succeed together.

Sleep and diet
You'll learn a lot of stuff that'll put you to sleep (but not because it's boring), like how to optimize sleep and nutrition to deal with the rigors of air travel. Industry professionals conduct these seminars: our sleep seminar by NASA, and our diet and nutrition seminar by a professional dietician.

Customer service
You'll learn to go above and beyond to ensure our customers' vacations begin the moment they step on board. You'll be friendly, engaging, helpful, and you'll learn how to intuitively read a broad base of customers to determine their needs (no Jedi mind tricks).

Real-world scenarios
You'll learn to apply the customer service theories you learn in class to actual situations that may arise in-flight.
Think you're ready for the Air Canada Rouge Crew?
Not sure, maybe I just need a vacation.